Unlike mailing lists like YahooGroups, the forums.group board protects your private email address from being seen by other members (only moderators and admins can see your email address).
This vastly improves your security and privacy as third parties cannot see your personal email address, yet it is still important to be able to contact other members privately.
The private messaging system (PM) was designed to allow forum members to communicate with each other privately. You simply use their username as an address and write your message to them like any other forum post. Once you submit the message, an email is sent to the recipient informing them that a PM is waiting for them. That email does not contain the message itself, just a link to where the message can be read. The other user can then simply login to the forum and read the incoming message and can of course reply to it.
This is a much more secure way of communicating privately as the message never leaves the forum system. In comparison, an email is about as private as a postcard and you do not know who else can read it unless strong encryption is used that is rare. Theoretically, an admin with access to the database could read PM messages. Forums.Group however does not provide any tools for third parties to read such messages and has a policy of not reading them unless forced to for legal reasons (this has never happened in 18 years of running online forums).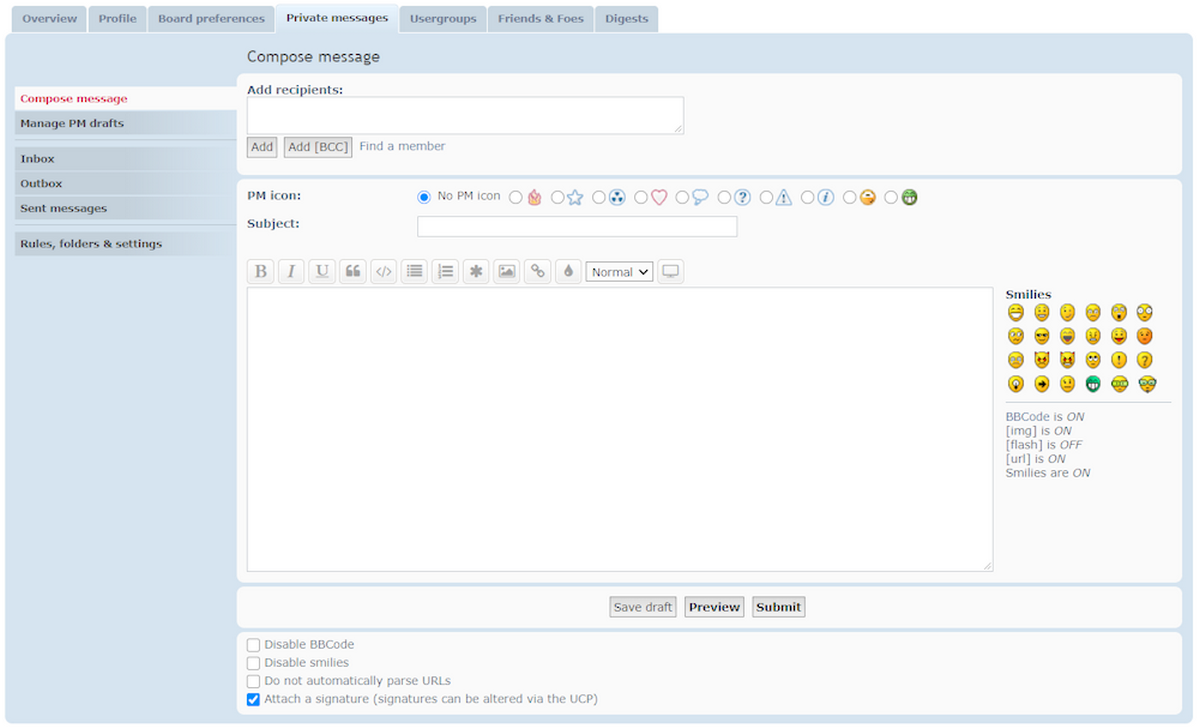 Compose message:

This is where you can write your messages. Click on 'Find a member' to obtain a searchable list of members usernames.



Manage PM drafts:

Like forum messages, you can also save message drafts and restore (Load) them at a later time. Here you can delete unneeded drafts.



Inbox:

This is where you can read PM's sent to you from other members. You can also send a reply, forward or print these messages.



Outbox:

When you send a PM to another member, it is stored in your Outbox until the other member reads it. You can edit or delete that message.



Sent messages:

Once your outgoing message has been read, it is then stored in the 'Sent messages' section. You can read and delete these messages, here.



Rules, folders & settings:

In a similar way to modern email systems, you can setup folders to store your messages into categories and also use automated rules to process incoming messages. Settings are used to determine what happens when your inbox is full. Should older messages be deleted or are newer messages held back until you have made space for them.



Note: On Free-Hosting forums, you have space for 50 PM's and Premium forums allow you 500.