Forums.Group forums allows its users to communicate privately by using Private Messages. To visit the private messages section, you either can click on the Private messages link on the top right-hand side below the forum header, or you can directly access it through the User Control Panel.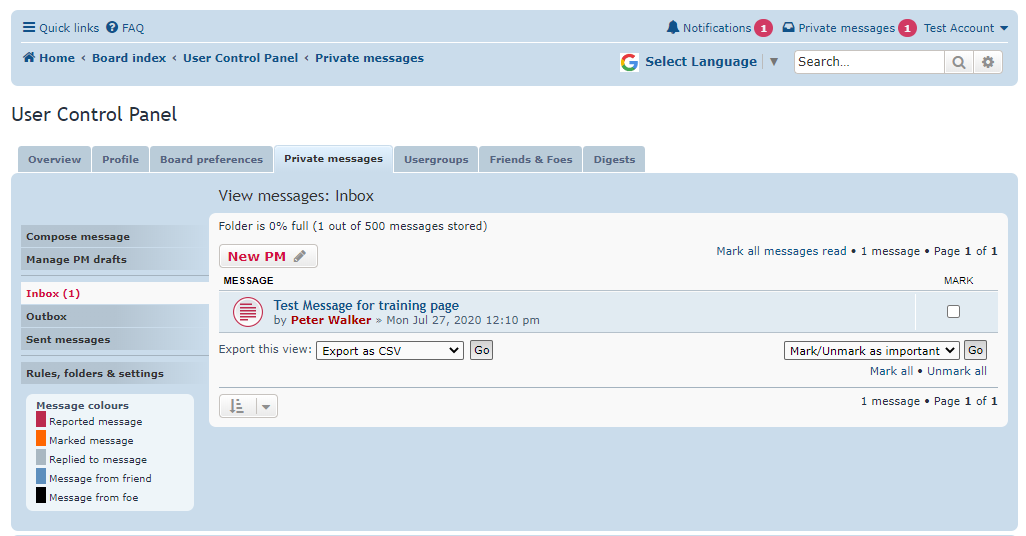 The Inbox is the default incoming folder, which contains a list of your recently received Private Messages.

There are several ways of being notified of the arrival of a new Private Message:
An entry will appear in the notifications menu and a number appears next to Private messages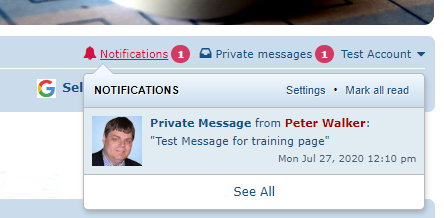 An email is sent to the recipient informing of the incoming message:
From: testforum@forums.group <testforum@forums.group>

Sent: Monday, July 27, 2020 1:47 PM
Subject: New private message has arrived
You have received a new private message from "Peter Walker" to your account

on "Test Forum" with the following subject:
Test Message for training page
You can view your new message by clicking on the following link:
https://testforum.forums.group/ucp.php?i=pm&mode=view&p=4
You have requested that you be notified on this event, remember that you
can always choose not to be notified of new messages by changing the
appropriate setting in your profile.
This message was sent from the Test Forum.
https://testforum.forums.group
You can also receive PM's in the TapaTalk App
You can choose to not receive Private Messages by other users in your Preferences. Note, that moderators and administrators will still be able send you Private Messages, even if you have disabled them.