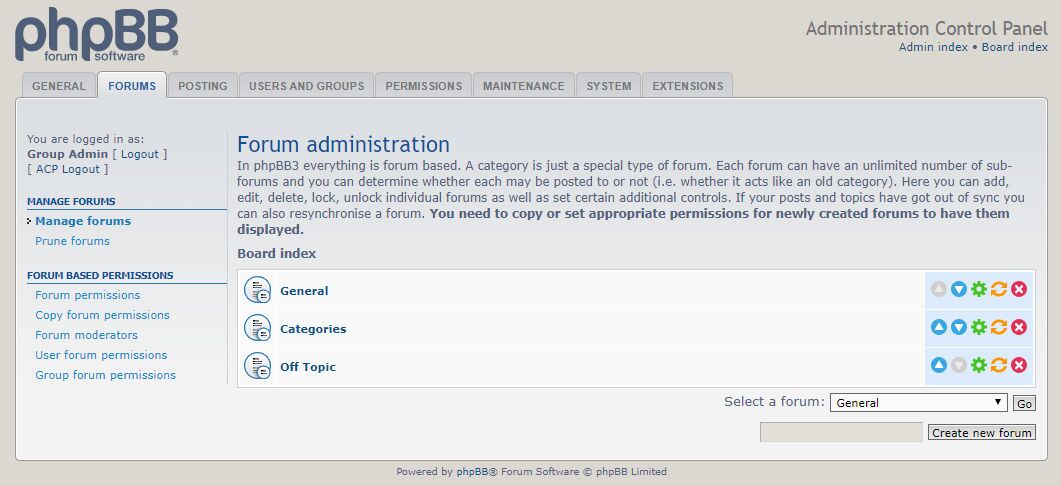 Explanation of forum types

There are three forum types. A forum can be a normal forum where people can post in, a category that contains forums, or it can be a simple link.

If you want to combine multiple forums or links for a specific topic, you can put them inside a category. The forums will appear below the category title, clearly separated from other categories. Users are not able to post inside categories.
In a forum people can post their topics. This is the place most of the activities will take place.
SUB-FORUMS


Groups with a high number of forums will benefit from subforums and you can now put as many forums, links, or categories as you like inside other forums.
If you have a forum about pets for instance, you are able to put sub-forums for cats, dogs, or guinea pigs inside it without making the parent "Pets" forum a category. In this example, only the "Pets" forum will be listed on the index like a normal forum. Its subforums will appear as simple links below the forum description (unless you disabled this).
Creating subforums. In this example, the subforums titled "Cats" and "Dogs" belong in the "Pets" parent forum. Pay close attention to the breadcrumbs on the page, located right above the list of the subforums. This tells you exactly where you are in the forums hierarchy.
This system theoretically allows unlimited levels of subforums. You can put as many subforums inside subforums as you like. However, please do not go overboard with this feature. On boards with five to ten forums or less, it is not a good idea to use subforums. Remember, the less forums you have, the more active your forum will appear. You can always add more forums later.
Read the section on forum management to find out how to create subforums.
The forum list displays a forum link like a normal forum. But instead of linking to a forum, you can point it to a URL of your choice. It can display a hit counter, which shows how many times the link was clicked.
Manage forums
Here you can add, edit, delete, and reorder the forums, categories, and links.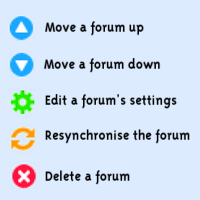 Each icon allows you to commit a certain action. Pay close attention to which action you click on when managing your forums.
The initial MANAGE FORUMS page shows you a list of your top level forums and categories. Note, that this is not analogue to the forum index, as categories are not expanded here. If you want to reorder the forums inside a category, you have to open the category first.
To make changes to the General category,
first click on the greeen cog-wheel icon. This opens a new page where you can make changes to that category (forum, or link).
To manage a forum in the General category, first click on the name of the category (General in this case), and the category opens up, allowing you to see the forums and subcategories that you can edit or rearrange as you see fit.

Create a New Forum
To create a new category, forum or link, first select the forum level where the new forum is to be under, enter the name of the new forum and click on the
Create new forum
button.

A new page opens with several sections. We will describe each section here separately.
This explanation also applies when editing a forum (after clicking on green cogwheel).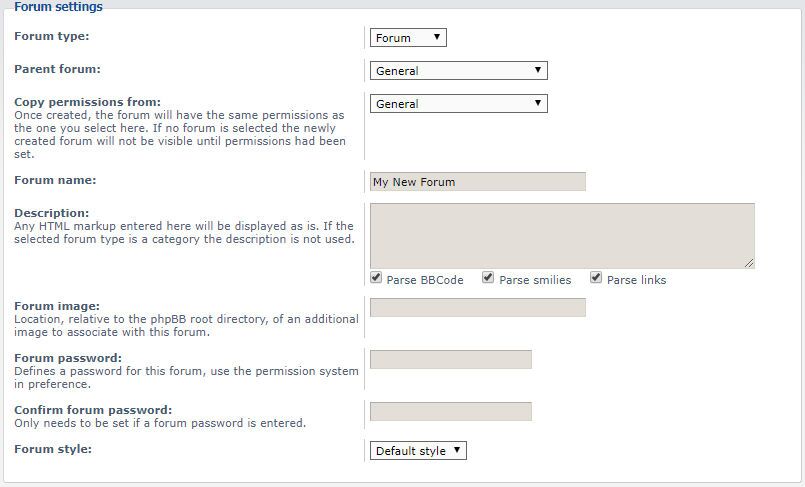 Forum type:
Here you select if you want to create a category, forum or link.
Parent forum: The forum or category this forum is to be created under.
Copy permissions from: Select a forum that has the same user access as the forum you want to create.
Forum name: The name of the category, forum or link you want to create.
Description: A description of the forum you are creating. This gives additional information about the forum to the user, what it is about.
Forum image: If you want an image to be displayed next to the forum, give a link to its location.
Forum password: If only specific people are allowed to see this forum, you can define a password that has to be used to access it.
Forum style: You can leave this on default.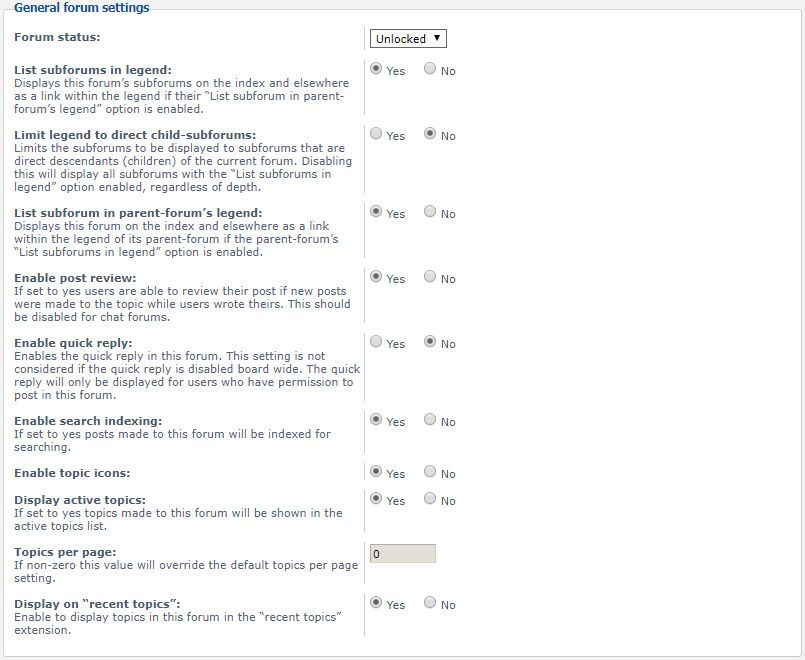 Forum status: Should this forum be locked (no posting possible) or unlocked (default)

List subforums in legend: Should links to subforums be included in the description area?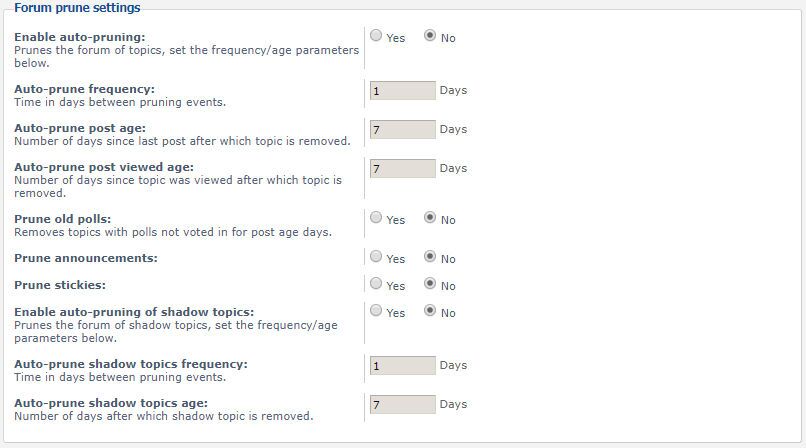 Link to forum rules: If you have specific rules for this forum, you can link to them here, or write them in the Forum rules box, below.

When you are happy with all your entries, click on Submit to create the forum