Editing posts

Moderators with privileges in the relevant forums are able to edit topics and posts, even if the forum is locked. You can usually view who the moderators are beneath the forum description on the index page. A user with moderator privileges is able to select the edit button beside each post.
On Forums.Group, we generally assign at least one moderator with global permissions, that is they can moderate any post on the forum. It is also possible to define moderators with only specific permissions, for example a "Topic Moderator" can only move topics, not edit or delete them - perfect for those moving archived messages into more suitable categories.

Once the post has been opened, the moderator has full access to change:
The "Post icon"

The "Subject"

The Text itself

Change any options or attachments

Delete the post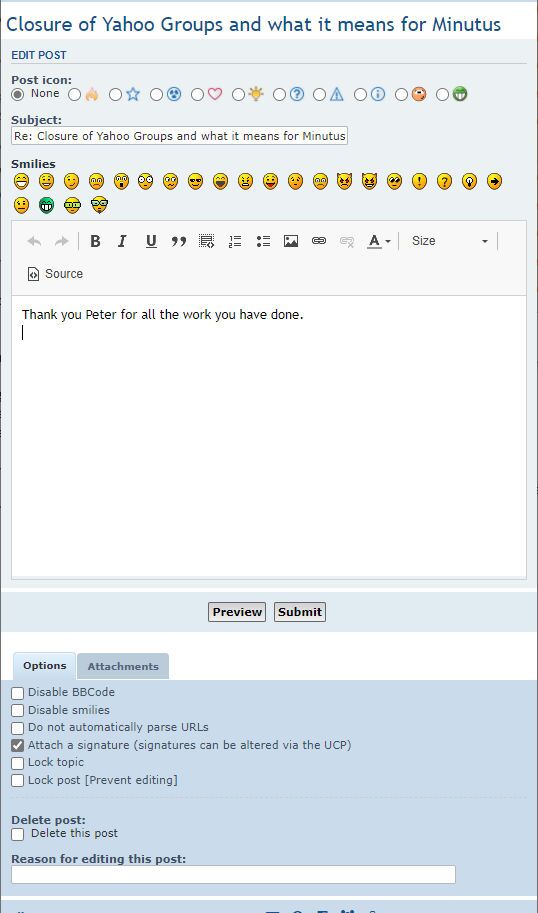 If there is an important post (or even the entire topic) that should not be edited by the original user, they can lock the post/topic under options.
The user will be shown a notice when they attempt to edit the post in future.
When a moderator makes changes to a post, they can optionally explain their actions in the "Reasons for editing this post" field. This adds to tranaparency so that the user can understand what changes were made.
They can also delete posts without editing.
Remember that it cannot be recovered once deleted.