Merge topics
I
t is also possible to merge topics together, that were not properly assigned during the migration procedure, for example, or two separate topics are related and involve the same discussion. The merging topics feature allows existing topics to be merged into one another.
To merge topics together, start by using the Quick-mod tools button beneath the topic in question, and clicking on
Merge topic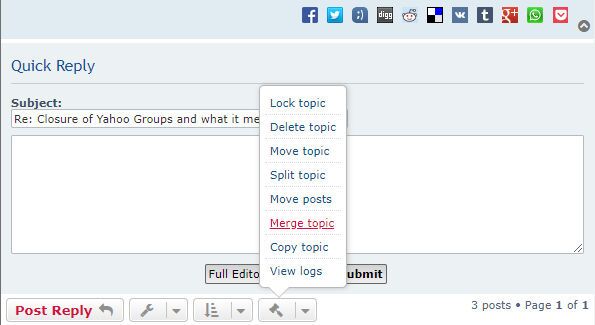 A new menu is shown where you can find every topic on the forum.
It first shows topics from the same forum, but by using the

S

elect topics

from

button, you can browse other forums.




When you have found the topic to merge with, click on

[ Select for merge ]



You are then asked to confirm the merge request:

Click on Yes to confirm and No to return and be able to select a different topic or to cancel.
The posts merged into the new topic will retain their existing timestamp (e.g. they will not appear at the end of the topic they are being merged to, but will be sorted based on their timestamp).
Merge posts into another topic