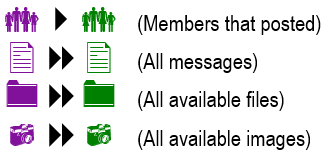 One-time setup from: $159
Plan 3: Archive Forum
With Messages, Files, Photos
If you have an inactive YahooGroup and simply want to make the existing archives available online without restarting discussions, this is ideal. The messages, files and photos are made available with full search functions available as well as the similar topics function that cross-references each post. This level is typical ordered for INACTIVE groups that just want to make their archives available online for reference purposes. The forum contains all the messages and members that have posted in the past, but silent members have been ommited. We will not be sending login details to the members, yet they can use the lost password feature to reset their password. As this type of forum is designed for archiving, we will leave it online for at least 10 years even without further activity.
There is a one time charge of $50 for extras added to Archive Forums:
Recent Topics provides a list of recent posts




Similar Topics provides links to 10 similar topics at the bottom of each post




ShareOn extension makes it easy to share forum posts.



There is also a charge for importing the messages, based on how many messages there are to import:
Import YahooGroup Messages up to 50k = $40



Import YahooGroup Messages 50k to 100k = $50

Import YahooGroup Messages 100k to 150k = $60

Import YahooGroup Messages 150k to 200k = $70

Import YahooGroup Messages 200k to 250k = $80

Import YahooGroup Messages 250k to 300k = $90

Import YahooGroup Messages 300k or more=$100

Plan 1: $69
(Forum setup fee)
Plan 3: $
40 (e.g.
up to 50k
messages)
Extras: $50 (
Recent Topics,
Similar Topics,
ShareOn)
Free hosting forums do not incur subsequent fees and the running costs are recovered by advertising on the forum.
We recommend the Premium option that includes a WYSIWYG editor, a lot of additional functions and is free of advertising.
All prices do not include VAT/Sales Tax (where applicable)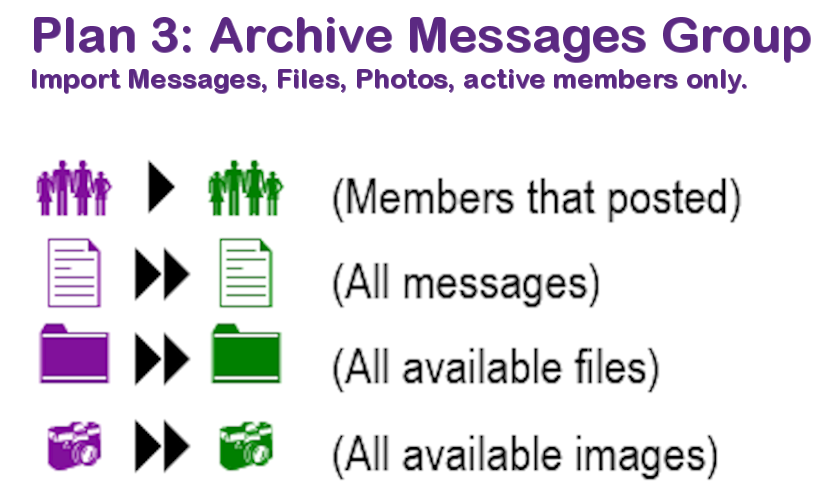 Add this option to create an Archive Forum, to restore your message archives and only those members that posted. This gives you enhanced cross-referencing and at least 5 years online without further payment.
For inactive groups that want to be able to read their archives, online.