Premium Membership Upgrade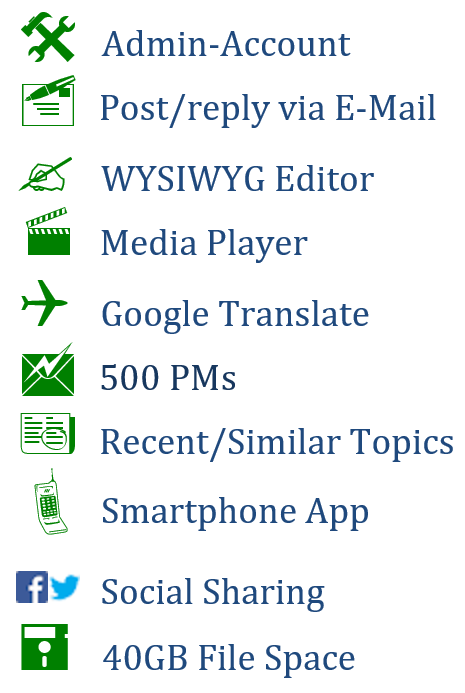 Premium Upgrade: $90, $159 yearly from year 2.
The free hosting plans provide you with a standard phpBB forum with minimal extensions and no posting via email with forum based support and advertising.
The premium plan adds a considerable number of enhanced features and we are constantly reviewing additional features to add.
For example:
The standard account provides Moderator access only.

Admin access allows you to have more control and responsibility over your forum.




YahooGroup members are used to be able to post new messages and to reply via email.

The standard account gives you forum only posting, not via email.




We are adding posting and replying via email with enhanced functionality for premium accounts during November 2020.




T

he standard account gives you a simple text-based editor using BBCodes to format the text.




Premium accounts give you a What-You-See-Is-What-You-Get editor that makes it easier to write messages.




The ability to easily show embedded media like videos on the forum is made possible with the Media Player.




For international forums, the ability to Google translate the forum texts into other languages greatly improves the understandabilty for foreign members.




YahooGroups does not have a private messaging system and members instead have used emails to contact other members off-list.




Forums.Group has an internal Private Messaging system and each member can store 50 posts for a standard forum

and 500 for a premium forum.




Standard forums provide the typical phpBB search system to find topics.


Premium forums additionally have two powerful crossreferencing systems to read the archives: Recent Topics provides a list of recent posts, Similar Topics provides links to 10 similar topics at the bottom of each post.


Standard forums are compatible with being used on a browser of modern smartphones and tablets.




Each Forums.Group premium group can be additionally accessed on a Smartphone or Tablet with the TapaTalk App. This greatly simplifies accessing the forum from anywhere.




It is common to want to share posts on other social media platforms.

the ShareOn extension makes it easy to share forum posts.




The free-hosting forums have just 2GB to share files, etc.

Premium forums have 40GB



Other features will be added in the future.


You can visit our first customer, that is already running a premium level forum:
minutus.forums.group
Important: You need to ADD this to your Free Hosting order (plans 1-4) to upgrade your forum to the premium level for a considerably better forum experience free of third party advertising.
Add a whole load of options by default, 30GB space for attachments and files, 200 private messages (50) and lots more. Forum setup costs $99 and with this option you upgrade to the premium level. This upgrade costs $90 each year in addition to the installation fee to order the forum.