Plan 5 - Migration Service Self-Hosting
Plan 5: Conversion Service
With Members and Messages, etc.
There are some groups that already have their own website and would prefer to host their new forum there and have the expertize to run it, themselves. That is, they do not need us to host their group at all, they just need our support converting the messages into a phpBB forum database for them to use.
We are therefore offering a conversion service and the customers can then setup everything, themselves.
Should they prefer us to install the forum on their website for them, this is possible for an additional charge.
Once the conversion process is complete, the customers run their own forum and we are no longer responsible for ongoing support.
We make a charge of $
169 for the convesrsion service including importing the members.
There is also a charge for importing the messages, based on how many messages there are to import:
Import YahooGroup Messages up to 50k = $40




Import YahooGroup Messages 50k to 100k = $50




Import YahooGroup Messages 100k to 150k = $60




Import YahooGroup Messages 150k to 200k = $70




Import YahooGroup Messages 200k to 250k = $80




Import YahooGroup Messages 250k to 300k = $90




Import YahooGroup Messages 300k or more=$100



Plan 5: $169
(Conversion service) +
Plan 5: $40 (e.g.
up to 50k
messages)
Note: The phpBB database format can be converted for use on a wide range of other forum software systems.
All prices do not include VAT/Sales Tax (where applicable)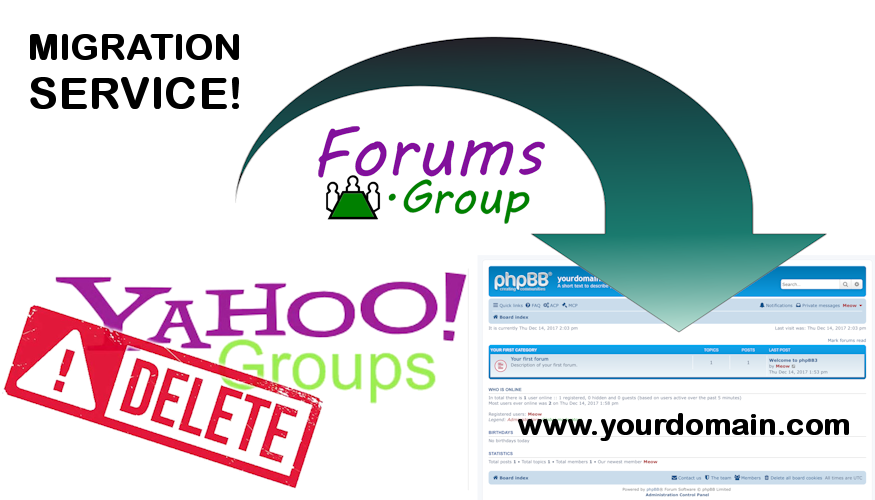 Migrate your members and messages into a phpBB database for you to host a phpBB forum on your own domain. Our responsibility ends when we give you the database.
Note: Does not include posting via email.